TZ Navigator v3 has had a heap of new features added to its predecessor to make it more intuitive, touch screen friendly, safer and overall a better piece of equipment to make recreational sailing more enjoyable. Having said all that, the primary purpose and the real reason that TIMEZERO products exist today is its ability to use an algorithm to work out the best way to get from point A to point B. The history of the product is therefore deeply entrenched in offshore racing where this software saw its first real and direct benefits that changed the game for how skippers predicted weather forecasts.
This breakthrough in software becoming relevant to sailing led to software and hardware becoming a mainstay for all sailors, be it regatta racing or cruising with the family. Today of course the software has developed a long way, yet decades on, the algorithm that helped in optimizing trips with sailboats is just as relevant as it was back then.
Free Weather Forecast Service
Using TZ Navigator v3 to plan out your next trip couldn't be easier. From home the night before with a cup of tea and the T.V on you can get your laptop out and open up your TIMEZERO by Nobeltec software and go into the Weather Forecast Update workspace. Once you have downloaded the sufficient amount of days of winds, currents, waves and other information pertinent for you can start planning out your trip!
Creating the weather forecast zone
Display of zone for weather forecast
Safety Route Planning
Now you will need to head back into the Planning workspace. From here you will see that weather forecast in the area you're planning to sail in displayed with a time bar along the bottom of the screen for the amount of time you estimated needing. The progression of this Weather Forecast is another great feature that allows you to see how the winds will pick up or die down, incoming pressure fronts.
So right now you have your weather on screen but you still haven't planned out your route. Creating a route in the new TZ Navigator v3 couldn't be easier thanks to the color-code Safe Route Planning feature and then using the algorithm that is contained within the Weather Routing Module to calculate the fastest way from point A to point B.
Normally if you own a sailboat, you might like to plan out a route simply using the progression of the winds, waves and currents you have downloaded. You know what polars your boat has so you know what speed you will be able to do given the conditions, therefore you can estimate in increments which routes seem the best. However you know that no matter how precise the calculations you make are, there is still a large amount of guesswork involved.
This is laborious work and the amount of calculations you can make are endless. Fortunately it doesn't have to be that way! The Weather Routing Module takes out the endless work that continues into the early hours and also takes out human error of the equation because we all know that it happens and the last thing we need is to realize that an error has been made when we are in the middle of the ocean facing completely different conditions than had been expected.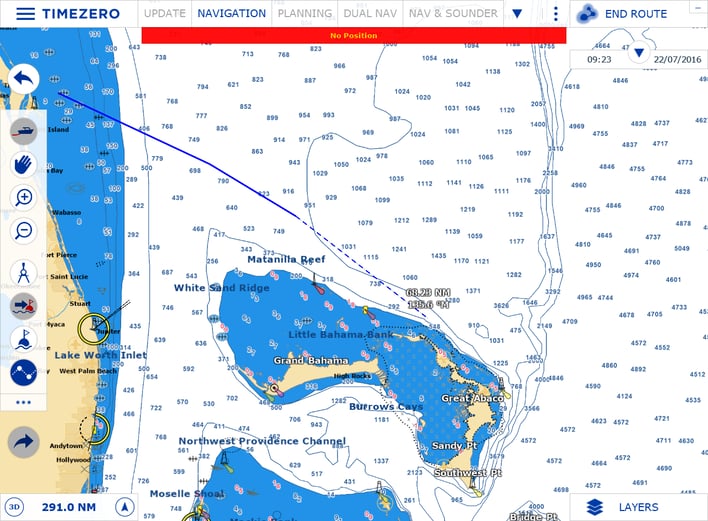 Safety Route Planning feature display route in blue and previsional route as a dotted line
Weather Routing Module
The Weather Routing module can be used once a route has been planned. For this reason it is best to create a route that is as straight as the crow flies as possible. Obviously when creating the route the color-code Route Safety Planning feature should be used to ensure that the boat will safely pass through and over the route. The Weather Routing module works with a polars of your boat, so remember to contact the company/ previous owner to get these otherwise what you are calculating isn't going to very accurate. While TZ Navigator v3 has a database of polars, the sheer numbers of different types of boat means that often you will need to add your polars by hand (or keyboard).
Now that you have your route from point A to point B and your polars in the TIMEZERO by Nobeltec software, you can click on the Weather Routing module and then click anywhere over the route to get the algorithm wheel in motion. You'll see that the loading time is quicker than you might of thought and lightyears ahead of calculating by hand. Once it is complete the optimized route will be readily available to see and your boat icon will do the tour just to make sure you know exactly which line represents the optimized route (in green) and which one was created using the Safe Route Planning (blue).
A new addition to the Weather Routing module is the ability to check for an alternative route and a shading of the map to determine the reliability of the winds (and the other weather forecast variables). These features let you adjust your route based on probabilities. Another great feature is making sure that the calculation avoids all routes which have a winds of over a given speed (25 knots for example) and a given height of waves. This is especially useful for families who want to have a great sailing experience while staying within a relative level of security because sometimes pushing the limits has a place and a time.
Weather Routing module displays ideal route in green
Launch Alternative Routing option
Option to avoid certain zones based on minimum & maximum speed & waves
We will be adding real routes that our ambassadors have made and getting their stories on their travels so make sure to stay up to date with our blog!
The Weather Routing module is designed for both advanced racers and recreational users. Get more information on TZ Navigator v3 and the Weather Routing module on the product page.
Go to the TZ Navigator v3 product page